Post reblogged from Monster Boy Development Blog with 35 notes
some

BODY ONCE TOLD ME

/jumps on the bandwagon
Photo reblogged from Meanwhile, elsewhere... with 18 notes
Seeing 3D Boy in this retarded pose for texturing tests tempted me to draw this.

I regret nothing.

FABULOUS DAAAAAHLIIING! XD

If it was not 2 in the morning and I were not struggling to sleep, I would draw Nexus contesting Boy at who is the most fabulous.

But alas, it shall have to wait until tomorrow. Dahling.

OH NO, BOY'S BEEN INFECTED BY THE SMARMBROW.
—
I know Chris swearing isn't canon and some people would like that [I think] so take this.
BOY'S INFECTED By THE SMaRMBrOw, WatCH OUT
CHRIS, NeXT TIME RUN AwAY FASTEr, YEESH.
Source: zduck
Photoset with 7 notes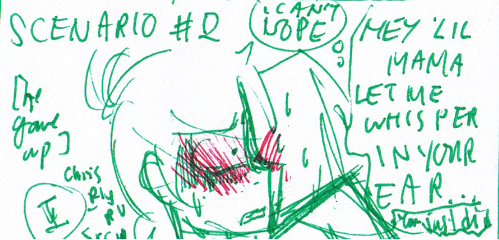 Photoset reblogged from Keep the Best; Leave the Rest! with 26 notes
This was an odd question. Couldn't resist the gag.

Is it bad that no matter how many times I look at this, my stomach still gets all happy-tingly every time? 
WhAT
What DiD I jUST SAY BACK THERE
He said 'At least not in front of these people…' if you can't understand since my handwriting sucks aha
Still having a bit of fun doodling things at the monster boy comic with goggles haha…
I'm SOrRY [MayBE NoT SOrrY I Don'T KNOW
I ShoULD Get DrAWING That 413 ThiNG]

Source: monsterboyask
Audio post reblogged from I'll use Tumblr properly on this blog, I swear. with 37 notes - Played 259 times
thanks to ZAK for this voice clip.
zak is brilliant. that was all.

So, thanks to Tumblr's new media player, you can see the titles of the music files people upload.

I'd like to draw attention to the title Zak chose to give to this particular recording.

:3c
Source: inalostcorner
Photo reblogged from Monster Boy way over here and there with 7 notes
Boy: "WHAT THE HECK—?!"
Me: "…What did I listen to today?…"
—
I have no idea what did I listen to. I just listen to the radio and I think of things to draw while I listen. I just drew this then… WHAT HAPPENED.

…Y'know, I wanted to draw Chris somewhere there in the BG, just staring. XD I just didn't find the space…

WAIT. WAAIIT. I THINK THIS MADE ME DRAW IT. Wait… No, that can't be. Or I was unconscious again. Ugh, I have no idea.

Anyway… I DO NOT own Monster Boy/Boy. 
 #Boy, #He's a princess., #I have this AU where Chris is the prince in shining armor, #Boy's a princess, #Viola's the Queen, #Nexus is the one who kidnapped Boy, #Or Kevin, #Whatever floats yer boat
I'll be here laughing at my own tags because I think it's funny wait
Source: lin-rinku
Photo reblogged from Monster Boy way over here and there with 8 notes
Boy: "AaaaAah…" o.o;
Chris: "Just eat it. You wanted it."

Boy: "!" >.<;;
Chris: <3

CHU~<3
—
…WHAT. HAVE. I. DONE.

akldnasjxasjfnasjhamsdkahfasckafnaskcnas— >w<;;

I DO NOT own Monster Boy/Boy/Chris/Chroy/that… pocky thing. 

I'll 5ever ship it and you can't stop me.
Pretty much.
Source: lin-rinku
Photo reblogged from Monster Boy way over here and there with 4 notes
Boy: "…Thanks a lot, Chirs…"

Just love that pairing. Ugh, I want to remember them all, but it's hard to keep track when you're a person who likes to ship a lot. >w<;

I drew this after I read this before. Though, I didn't draw it right away. Meh.

But I did draw this. :3

AHEM. I don't own Monster Boy and… Boy. o3o
I will one day re-draw you since there are some errors and I want you digital.
I haven't drawn chibi in a while either I think…
Source: lin-rinku
Photo reblogged from Monster Boy way over here and there with 7 notes
It's Chroy fanart. Deal with et. ;w;

Grah, I like to steal ideas. I'm so sorry. It was copied from this: http://wyntsketchesalot.tumblr.com/post/19823745730/i-really-kind-of-like-how-chris-came-out-in-this I'm very unconscious of the things I draw most of the time. Grah. Well, here it is anyway.

They're holdin' hands~ uwu

I'm thinking of tracing and coloring this on my laptop. But it seems late for that… Grah, I don't seem to be making much of progress in things that needs tracing, coloring and shading on the laptop… Jk, jk. I do make progress. I just don't have the time to do it. No, it's not school time.

Any who, enjoy it. :3
Vex and Nexus aint doin' anything about you two, continue holding hands and let the hearts fly up tO ThE What AM I EvEN SaYINg.
JUST ConTIuE HoLDING HaNDS EveN IF I'm Just DOwN There AT The BoTTOM LeFT CorNEr
There's still problems with this, I'll eventually re-draw you… One day, not today.
Source: lin-rinku
Photo with 3 notes
MB doo- THESE ARE NOT DOODLES ANYMORE.
Welp. I drew these guys.
Boy [DUDE. LOOK WHAT I DID WITH HIS HAIR. He's not happy with it.], Chris [I'm happy with how he came out.], Viola [I tried drawing her in her original style. SHE TURNED OUT TO LOOK LIKE A PER—/slapped. WHAT HAVE I DONE TO YOU.] and lastly, Nex…us… The egg-head…?
I DO NOT OWN MONSTER BOY/THE CHARACTERS SEEN HERE, 'DOGG'.
Photoset with 3 notes
So, uh… I doodled these on my 3DS. o3o
Augh, there's only 3 colors I can use in the note thing. And the eraser. It's bigger than the colored pens/pencils/whatever. AAAUUUGGGHHH.
I DON'T OWN MONSTER BOY OR THESE CHARACTERS.
Photo with 2 notes
Woops… That was my bad…
—
So. I drew Boy. After a while… Yeah…
So. I wanted to draw him again. [I drew him like this on a piece of paper, but my camera isn't with me so I have to draw it from my memory. This is because I'm lazy to get the paper itself…] I tried the Adventure Time style. i tried using the Homestuck pen thing. [I think that's the pen. O:B]
And this is what came out. I'm happier with the outcome of this than the outcome of the paper version. =3=
I… I think I got the Adventure Time style OK. ;v; Not that it's perfect or anything…
I do not own Monster Boy/Boy/Adventure Time/Homestuck.
…ENJOY?!
[Copy paste, DA: http://linksinme.deviantart.com/art/Woops-My-bad-302829104 ]
Photo with 4 notes
Meep, I've done it again. I traced it. Meep.
-cough- OK. It's practically the same thing that happened to me while I was tracing this and stuff. Thing is, this took longer than this. XD;;
Anyway, hope you like it. AND I DON'T OWN THE LINEART [since I traced it]. I colored it though… Also, I DO NOT own Monster Boy/the characters shown.
Gog, I have to stop tracing…
Photo with 2 notes
I drew these two as I ask them what they think about each other…
WAIT. NO. THIS IS NOT TRUE. NO. THIS NEVER HAPPENED. Well, it did in my dream [GASP. I HAVE MB DREAMS MORE OFTEN. OWO ]. Anyway, short start part of what I remember. 
—
Boy: "Ch-Chris? What about him?…"
Chris: "Uh… What about that kid?…"
— 
Meep. He said kid, not Boy. Meep.
I DO NOT own Monster Boy/Boy/Chris/Chroy. :I
Photo with 2 notes
Draw Something

Daniel: "Hey Chris, hey Chris, hey Chris! Draw me something! Pretty please?"
-
Chris: "Oh, hey there… What do want me to draw draw, Danny?"
-
Daniel: "Umm… Lemme think…"
-
Daniel: "What 'bout… a boy?"
-
SILENCE
Daniel: "?"
-
Daniel: "Something wrong? You don't want to draw a boy? 'Cuz it's OK…"
-
Chris: "It's fine. I'm just thinking."
Daniel: "Oh. I see."
-
Chris: "You wanna watch me or something?"
Daniel: "Oh, YES!"
-
Chris: ~He said draw a boy… So I drew him one.~
-
Chris: "Here."
-
Daniel: "Thanks! Cooooooooool."
-
Chris: "You're welcome. Now, go back and do your homework."
Daniel: "Fine." :I
-
Door: ~Crr…~ -.Tschk.-
Daniel: "That was faster than usual, Chris!"
Chris: "…I know… I know…"
-
Chris: "OK… I'm still stuck drawing that him… I'm kinda happy somehow…" [Hey, he's improving! o3o]
—
END? 

LOL, NOPE.
—
LE SMALL BLOOPER~ Ohoohoohoo, Chris~! oAo
—
Nexus: "It still sucks." =w=
Chris: "SHUT. UP."
Nexus: "What fun~"
Chris: "SHUT. UP."
—
OK. I'm done typing. Hope I don't have to do that again…

Anyway, I wanted to draw one of Chris' siblings, and Daniel/Danny came up. I think I drew him a bit like Boy… Though, to me anyway, he looks kinda like him. ;;@3@
OK. I drew the 9th panel first. It was supposed to be a single picture. WHAT HAPPENED. CHROY, YOU'RE STUCK IN MY HEAD. I LOVE YOU~ <3

-cough- I don't know how to make a gif smaller in a forum. Gah.
P.S. I'm sorry, you can't read it that properly… ;A;

Anyway, I DO NOT own Monster Boy/Daniel or Danny/Chris/Boy/Chroy. :U